Tree Sale Inventory: 2017 Additional Items

Pre-assembled Cedar Bluebird Houses

Hand made Cedar Blue Bird Houses, assembled according to Michigan DNR directions. Dimensions: 6" x 6" x 10"


---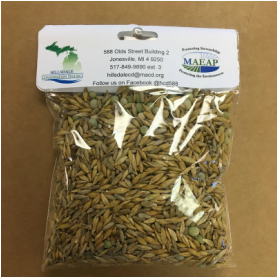 Pollinator Cover Crop Seed Packets
Cover Crops can help increase soil organic matter, reduce soil erosion and compaction, manage weeds, and provide a source of Nitrogen. They can also reduce the cost and use of Fertilizer and reduce the use of pesticides. Planting certain cover crops can also attract pollinators and beneficial insects to your garden! Our 6oz. Pollinator Cover Crop Seed Packets include a mixture of: Buckwheat, Sunflower, Phacelia, Cowpeas, Canola, Oats, and Crimson Clover.




---
Fertilizer Tablets
Help your seedlings and transplants get off to a quick start with fertilizer tablets.
Available individually or in bulk quantities.




---
Flags
Visibly mark your newly planted Trees, Fruit Plants, or Daylilies with bright, colorful flags.
Available individually or in bulk quantities.




---
Tree Protectors & Bamboo Stakes

Protect your trees from animals, equipment and human error with these 3 ft. Solid Tree Protectors. The complete set includes one tube, stake and ties.

Bamboo Stakes may be purchased individually.


---
---