Forestry Assistance Program
Conservation Districts helping private landowners manage their land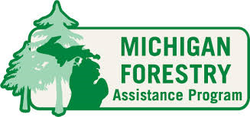 The Michigan Department of Agriculture and Rural Development and the Department of Natural Resources partner to fund Conservation Districts across the state to support quality forestry assistance delivered at the local level.
Forestry Assistance Program (FAP) foresters are committed to providing good information and one-on-one technical assistance to private landowners and communities about forest health and sustainability.
The purpose of the program is to help private landowners in Michigan better plan, understand, manage, protect and utilize their forest resources.
How can Forestry Assistance Program (FAP) help you?
Whether your use your forested property for hunting, fishing, bird watching, timber production, outdoor recreation, or to assure future generations can enjoy the land- we can provide your with the tools to make sure your part of Michigan's forests maintain a healthy and sustainable balance.
A Conservation District Forester can visit your property and provide as assessment at no cost to answer your questions and help you get to the next step in meeting y our land management objectives.
What does an "Assessment" Include?
When you make an appointment for a free assessment, your FAP Forester will provide customized information about your property like aerial photographs and soil survey information. During the assessment they will ask questions about your goals, objectives, and previous management history while completing a quick inventory of your land. They will also provide you with information about state and federal assistance programs for private landowners, and help connect you to local professionals who can provide you with quality service.
Other Services
- Timber harvest planning
- Managing forests for wildlife habitat
- Forest disease and pest management
- State and federal forestry assistance programs
- State tax incentive programs
- Connection to consulting foresters and other natural resource professionals
To find your FAP Forester:
Visit:
www.michigan.gov/MIFAP
and click on your County, or Call (517) 284-5607.
---