Hunting Access Program (HAP)

LANDOWNERS
Payments for you, land for hunters!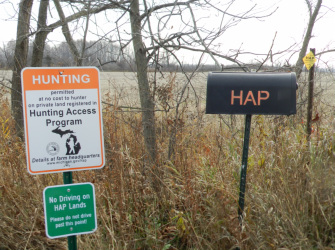 The Hunting Access Program (HAP) offers landowners payment and liability protection in exchange for providing hunters limited access to their property.
Why Enroll your Properties in HAP?
-Annual compensation payments of up to $25 an acre!
-Opportunity to reduce nuisance wildlife and contribute to wildlife management.
-Free landowner liability coverage.
-You decide to allow all species hunting, youth and apprentice hunting only, small game only, deer only, turkey only, sharp-tailed grouse only, elk only, or a combination of these.
-Limit the number of hunters at one time.
-Preserve Michigan's hunting tradition and hunter recruitment!
Landowner Liability: Are you Covered?
YES!
P.A. 451 of 1994 provides liability protection for landowners enrolled in HAP.
"No cause of action shall arise for injuries to persons hunting on lands leased under HAP unless the injuries were caused by gross negligence or willful and wanton misconduct of owner, tenant, or lessee."
How do I enroll?
-Landowners in eligible HAP counties owning 40 or more acres are eligible to apply (See Map)
-HAP contracts are for two-three years and can include forest, wetland, grassland, and cropland cover.
-For questions and to enroll your property, e-mail
dnr-hap@michigan.gov
or call (517) 284-4741 or contact your local Conservation District office!
Find a current listing of enrolled HAP lands at:
http://www.michigan.gov/dnr/0,1607,7-153-10363_10913_58762---,00.html
---
---
Hillsdale County Map of HAP Lands
Updated: 2017

Additional Information is available through your local Conservation District, or DNR HAP Coordinator.
Contact your local DNR Office Monday-Friday, 8:00 am to 5:00 pm
Rose Lake Field Office
8562 E. Stoll Rd.
East Lansing, MI 48823
(517)641-4903