The Hillsdale Conservation District has three No-Till Drills available for Rent!

If you are interested in renting one of the following drills, please contact us at (517) 849-9890 Ext. 3 for up-to-date availability.

2017 No-Till Drill Rental Pricing:

$50.00 Flat Rate Fee PLUS Acreage Fee

Acreage Fees:

$15.00 per Acre; 0-25 Acres

$14.00 per Acre; 26-50 Acres

$13.00 per Acre; 51-100 Acres

$12.00 per Acre; over 100 Acres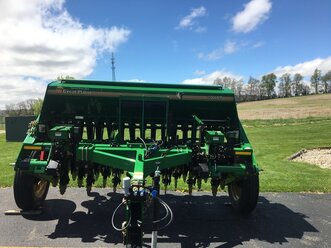 New in 2017! The Great Plains 1006NT 10ft. Drill can be used for grain, alfalfa, grass and wildflower mixes!

---
The Truax Flex II 10ft. Drill is specifically used for grass and wildflower plantings, and has a 1.1 bu./ft. capacity.

---
* The renter, as determined by the Hillsdale Conservation District, will pay all damages due to misuse or negligence on the part of the renter. Further, in no event will the District be held liable for incidental or consequential damage or injuries. Maintenance will be the responsibility of the District; any repairs without prior authorization by the District will not be refunded. The renter agrees to operate equipment according to the manual or instruction provided by the District; renter will indemnify and hold harmless the Hillsdale Conservation District of all claims arising out of the use of this equipment.