Annual River Clean-Up
Every year, the Hillsdale Conservation District dedicates a Saturday or two in an effort to keep the St. Joseph River clean.


Our last River Clean-up was held on Saturday, August 1st. Trash and tires were taken out of the St. Joseph River between U.S. 12 in Jonesville and Rainey Road. Six Volunteers, including HCD Staff and board members helped pick up a total of 16 trash bags, 13 tires, a chainsaw, and several scrap metal items.

The HCD supplies gloves, trash bags, waders, first-aid kits and bottled water. A free lunch is always provided at the end of clean-up! Only some canoes will be provided, so you may be asked to bring your own. The HCD recommends aluminum canoes for durability reasons. Kayaks are also welcome!

You never know what you'll find! If you, or a friend are interested in helping out with future river clean ups, please contact the District at (517) 849-9890 Ext. 3.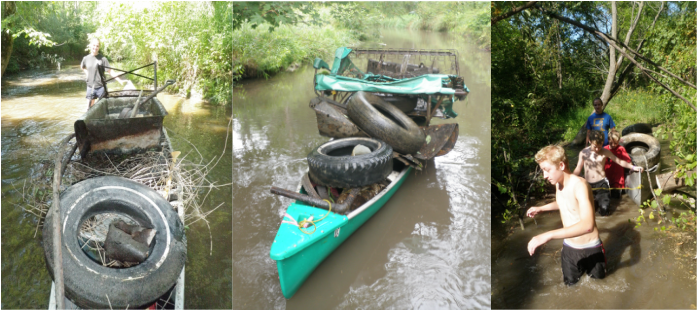 West Fork of West Branch, East Fork of West Branch and Silver Creek, each with a canoe laod pulled from the river.